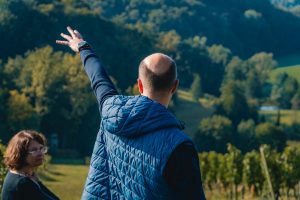 SATURDAY 3 SEPTEMBER 2022, 14:00 - 20:00 // UPPER COURTYARD OF PTUJ CASTLE //
"In the midst of the sun-drenched hills of Jerusalem and Svetinj, in an area renowned for centuries for its quality wines and the best growing conditions for the production of fine wines, stands a family-run winery with a modest but glittering secret - its location.
The estate, adorned with the beautiful yellow Mon Royal Chateau and a boutique cellar, comprises a total of 18 hectares of vineyards spread over the best, carefully selected southern and south-western positions of the Jeruzalem and Svetinj Hills - a superb wine-growing region.
The Mon Royal estate is a family property dating back to the 19th century. It is famous for its sunny yellow colour and its beautiful views over the sun-drenched vineyards, which offer a special charm and experience.
Next to the old vaulted cellar, the estate also houses a wine bank, which has been recognised as the first national wine bank in Slovenia, thanks to its former owner and a pioneer among private Slovenian winemakers.
In 2022, the estate got a new owner; the Herga family, who will continue to develop the story of tradition and commitment to viticulture with their love for wine and nature.
We want to capture pure nature in wine - and offer it to you in a wine glass; soon at the Promenade of Tastes at the beautiful Ptuj Castle!"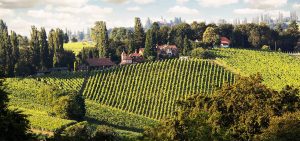 _____________________
Spend a day surrounded by one of the most beautiful castles in Slovenia.
Spend it at the Promenade of Flavours in Slovenia's oldest city.
The Ptuj Promenade of Tastes is held for the third time at Ptuj Castle, from where you can enjoy magnificent views of the vineyards of the Halos, the Slovenian Highlands and the Ljutomer-Ormož Highlands.
What does the Ptuj 2022 Promenade of Flavours have to offer?
- fine cuisine, married to the fine wines of Ptuj's vineyards,
- socialising between the walls of the beautiful Ptuj Castle.
What does the €18 ticket include?
- tasting over sixty top wines,
- a tasting glass with the Salon Sauvignon logo,
- a coat hanger
- Concert by Tadej VESENJAK, singer-songwriter of Jeruzalemskie gorice.
Find out more about the Promenade of Flavours in the FB event
 https://www.facebook.com/events/2053397331536448/?ref=newsfeed
where you can also book tickets at a pre-sale price of EUR 16.
If you like the event, like it, share it and invite your friends, acquaintances, relatives, business partners.
Let's have a great time at Ptuj Castle this Saturday in September!
We'll be hanging out at Ptuj Castle in all weathers.
The event is organised by Itadakimasu Ptuj.
Co-organised by the Ptuj - Ormož Regional Museum and the Ptuj Tourism Institute.
The event is organised under the auspices of the Salon Sauvignon festival.
Partners: winemakers, gastronomic houses, the Spodnje Podravje Rural Youth Association, the Ptuj Agricultural and Forestry Institute.
@pokrajinski.muzej.ptuj.ormoz @visitptuj
#Promenadaokusov #SalonSauvignon #ZavodzaturizemPtuj #Ptuj #visitptuj #rajinskimozejptujormož #ourism #ourism #wine #culinary #enogastronomy #culinaryarts #culinaryexperience #tastingptuj #tastingptuj #enogastronomy #culinaryarts #culinaryexperience #tastingptuj #enology #winetasting #promenades #associations #socialising #Stayers #Slovakia #MestnivrhPtuj #SrednjeSlovenskoegorice #Halose #Delhotels #Ljutomerskoormoškegorice #Ljutomerskoormoškegorice
#Jerusalem #JerusalemCathedrals #TadejVesenjak 1TP4Music #cantAuthor #vinoBoughtHerga