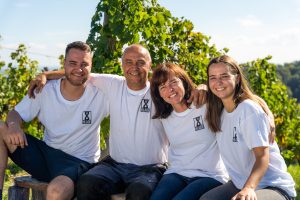 10 SEPTEMBER 2022 // 14:00 - 20:00 // OLD TOWN CENTRE OF CELJE
"The Hlade wine estate is located at the crossroads of the Slovenian Highlands and Kozjak. To be more precise - we are ten kilometres from the very centre of Maribor in Šobru.
Our vineyards are also planted here; eight hectares in total.
The vineyards are divided into two positions: the Šober position and the Kozjak position.
The sandstone and lapis give us an excellent base for growing vines. The vineyards lie between 350 and 500 metres above sea level. All this allows us to produce wines that express minerality, fruitiness and freshness.
Come and taste them - at the Celje 2022 Promenade of Flavours. We'll be delighted to meet you!"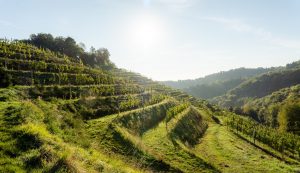 _________________________
You are cordially invited to one of the most picturesque city centres in Slovenia on Saturday 10 September - the Celje 2022 Promenade of Tastes, at a time when the vineyards surrounding the city smell sweetly of the sweetness of ripe grapes.
This Saturday, we will explore the Princely City with a wine tasting glass in hand from 2 pm until sunset at 8 pm.
What does the Celje 2022 Promenade of Flavours have to offer?
- top wines from the vineyards surrounding Celje, from Styria and Slovenia.
- fine cuisine from Celje's gastronomic houses.
- socialising and exploring the picturesque town centre with a glass of wine in hand.
- a musical surprise.
What is included in the €18 ticket?
- tasting over sixty top wines,
- a tasting glass with the Salon Sauvignon logo,
- padlock.
Find out more about the Promenade of Flavours in the FB event
Celje 2022 Promenade of Flavours .
If you like the event, like it, share it and invite your friends, acquaintances, relatives, business partners.
May there be many of us in the Prince's City this Saturday!
In case of rain, the event will be postponed to 24 September 2022 from 14:00 - 20:00.
Organised by Itadakimasu Institute.
Co-organised by the Celeia Celje Institute.
Partners: winemakers, gastronomes, Vin.Ce Association, Wine & Art project.
The event is organised under the auspices of the Salon Sauvignon festival.
Find out more about Celje, the city of counts, on:
https://www.visitcelje.eu/sl/ 
https://www.facebook.com/gocelje/
https://www.facebook.com/knezjemestocelje/