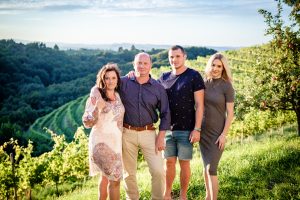 SATURDAY 3 SEPTEMBER 2022 14:00 - 20:00 // UPPER COURTYARD OF PTUJ CASTLE //
"The best places in the Halkalk Valley, where survival has always required a great deal of effort and dedication to the land, give us wonderful wines.
The hands of father Ivan, mother Irene, son Primož and daughter Lucija are hard at work in the Ivan Kramer vineyard.
In 1995, we decided to dedicate our lives to wine.
Because we prudent people know that any activity we want to do perfectly takes time and learning, after a dozen years of experience and making wine for friends and family, we started serious winemaking in 2007. Since then, we have been turning all the grapes we produce into a noble drop.
Our vineyards are spread across the wine-growing hills of the Halos, on the steep slopes of the Dravinja and Majsko peaks.
The wines typical of the Halo region are excellent because they are mineral and aromatic.
With our Sauvignon, Muscat, Riesling, Riesling, Chardonnay, Traminer, Pinot Blanc and Pinot Noir, we meet the needs of all discerning wine buyers.
As proud Haloesians who love our hometown, our vision and mission is to capture the Halo region in a bottle of wine and proudly take it to the world.
Meet us and our wines at the Promenade of Tastes in Ptuj, Slovenia's oldest city! We look forward to welcoming you!"
More about the Kramer family on:
https://www.facebook.com/vinakramer/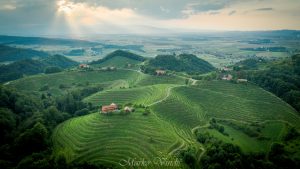 _____________________
Spend a day surrounded by one of the most beautiful castles in Slovenia.
Spend it at the Promenade of Flavours in Slovenia's oldest city.
The Ptuj Promenade of Tastes is held for the third time at Ptuj Castle, from where you can enjoy magnificent views of the vineyards of the Halos, the Slovenian Highlands and the Ljutomer-Ormož Highlands.
What does the Ptuj 2022 Promenade of Flavours have to offer?
- fine cuisine, married to the fine wines of Ptuj's vineyards.
- a musical surprise.
What does the €18 ticket include?
- tasting over sixty top wines,
- a tasting glass with the Salon Sauvignon logo,
- padlock.
Find out more about the Promenade of Flavours in the FB event
 https://www.facebook.com/events/2053397331536448/?ref=newsfeed
where you can also book tickets at a pre-sale price of EUR 16.
If you like the event, like it, share it and invite your friends, acquaintances, relatives, business partners.
Let's have a great time at Ptuj Castle this Saturday in September!
We'll be hanging out at Ptuj Castle in all weathers.
The event is organised under the auspices of the Salon Sauvignon festival.
Partners: wine producers, gastronomic houses, the Ptuj - Ormož Regional Museum, the Ptuj Tourism Institute, the Spodnje Podravje Rural Youth Association, the Ptuj Agricultural and Forestry Institute.