MARKO PAVČNIK AND BISTRO LALU AT THE CELJE 2022 TASTE PROMENADE // 10 SEPTEMBER BETWEEN 2 PM AND 8 PM IN THE OLD TOWN
"LALU bistro is a small gourmet bistro in an attractive location in the centre of Celje. It is a relaxed, youthful, modern bistro with an original food offer, a fusion of all styles, with a creative design, but relaxed and without restrictions to a certain type of food.
The Bistro is a place to serve all that is good, seasonal and inspired by the world's cuisines.
We are Marko PAVČNIK, owner and creative director, Damjan ČULK, chef, and Matic KRIVEC, bar manager.
We look forward to meeting you - soon at the Promenade of Flavours in Celje!"
www.lalu.si
https://www.instagram.com/lalu.celje/
https://www.facebook.com/bistroLALU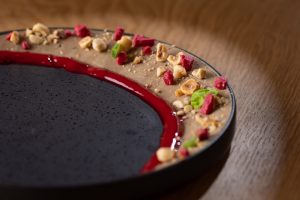 photo by Rok DEŽELAK
________________
What does the Celje 2022 Promenade of Flavours have to offer?
- top wines from the vineyards surrounding Celje, from Styria and Slovenia.
- fine cuisine from Celje's gastronomic houses.
- socialising and exploring the picturesque town centre with a glass of wine in hand.
- a musical surprise.
What is included in the €18 ticket?
- tasting over sixty top wines,
- a tasting glass with the Salon Sauvignon logo,
- padlock.
Tickets can be booked at a pre-sale price of €16.
https://salonsauvignon.eu/#celje .
If you like the event, like it, share it and invite your friends, acquaintances, relatives, business partners.
May there be many of us in the Prince's City this Saturday!
The event is organised under the auspices of the Salon Sauvignon festival.
Organised by ITD.
Co-organised by the Celeia Institute.
Partners: winemakers, gastronomes, Vin.Ce Association, Wine & Art project.
Find out more about Celje, the city of counts, on:
https://www.visitcelje.eu
https://www.facebook.com/gocelje/
https://www.facebook.com/knezjemestocelje/