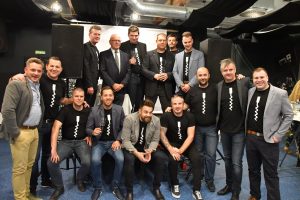 // 10 SEPTEMBER 2022 // 14:00 - 20:00 // OLD TOWN //
"The Vin.Ce association in Celje is in its eighth year of activity with the aim of promoting the quality of wine culture.
By visiting wine producers on trips around Slovenia and abroad and at special events, we get to know the diversity of the offer and look for distinctiveness and authenticity in the work of winemakers.
They also aim to raise awareness of wine in the local area, by organising various events in Celje to draw attention to the need to raise the profile of wine culture in Celje.
The main thread of the association's work is the selection of the "VIN.CE FAVORIT" award, which is presented by the members of the association on special occasions to a selected winemaker or wine on the basis of layman's criteria of likeability.
We will do it again on Saturday, the second Celje Promenade of Flavours.
We look forward to welcoming you to taste Vin.Ce Favorites - at the Promenade of Flavours in Celje!"
Find out more about Vin.Ce at:
https://www.facebook.com/vincefavorit/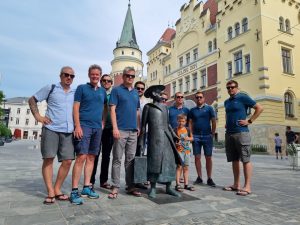 _____________________
You are cordially invited to one of Slovenia's most picturesque city centres this Saturday - the Celje 2022 Promenade of Tastes, at a time when the vineyards surrounding the city smell sweetly of the sweetness of ripe grapes.
We'll explore the princely city, wine tasting glass in hand, from 2 pm until sunset.
What does the Celje 2022 Promenade of Flavours have to offer?
Eighteen top winemakers and nine top culinary houses. 
So inas sixty wines and at least Eighteen gastronomic reasons to join us on the Promenade of Flavours Celje 2022. 
A meal of fine cuisine -  also for vegans and vegetarians - at a promotional price of € 6.5.
What is included in the €18 wine tasting?
- unlimited tasting of over sixty top wines,
- a tasting glass with the Salon Sauvignon logo,
- padlock.
Tickets can be booked at the pre-sale price of €16.
https://salonsauvignon.eu/#celje .
___________
Who will be with us?
CULINARY HOUSES, CAFÉS, BAKERY
Hotel Europe
Spaghetti and pizzeria Koper
Japan bistro Islands
Café Fabrika
Restaurant Nova rajngla
Grofina Chocolatier
Bistro Lalu
White Ox Utility
Metropol Café
Restaurant Lisjak Celjski
Restaurant Oštirka
Dobrine Bakery
Zvezda Confectionery
WINEMAKERS:
Brda cellar
winemakers from the village of Slap in the Vipava Valley
Vinakoper
Wine Valdhuber
Wine Hlade
Vina Kramer
Statera Wine Estate
Meum Winery
Wine Publisher
Vina Glavač
Wine King
Wine Kelenc
Golden Hill
Wine Mlakar
Vino Vreže
Planinšek viticulture
Emino House of Wine
Vina Mramor
_____________________
In case of rain, the event will be postponed to 24 September 2022 from 14:00 - 20:00.
Organised by Itadakimasu Institute.
Co-organised by the Celeia Celje Institute.
Partners: winemakers, gastronomes, Vin.Ce Association, Wine & Art project.
The event is organised under the auspices of the Salon Sauvignon festival.
We look forward to meeting you!
More about the Salon Sauvignon Festival:
https://www.facebook.com/salonsauvignon/
https://www.instagram.com/salonsauvignon2023/
More about Celje, the city of counts, on:
https://www.facebook.com/gocelje/
https://www.facebook.com/knezjemestocelje/