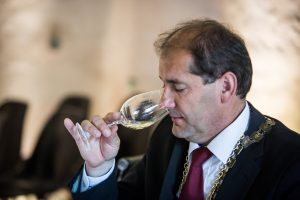 SATURDAY 3 SEPTEMBER 2022 14:00 - 20:00 // UPPER COURTYARD OF PTUJ CASTLE //
"What you do in the vineyard can only be preserved in the cellar, but you cannot change it in the cellar.
Our family from Mestni vrch near Ptuj cultivates the wines of Muscat, Sauvignon and Pinot Noir according to this principle.
A genuine contact with nature and a love of working in the vineyard take us every spring to the hills of Mestni vrh near Ptuj and to the Haloze.
We work according to the principles of careful control of growth and development in the vineyards, minimum vine stress, exposure of the bunches to the sun and hand-harvesting. The smaller production volume allows for careful control over the quality of the wines, which is reflected in the distinctive style of Rebernišek viticulture.
You are invited to the upper courtyard of Ptuj Castle, where we will be pleased to present our wines, as well as Civic, the protocol wine of the Municipality of Ptuj and the municipal vineyard on the castle hill.
We look forward to meeting you - with our wines - at the Promenade of Tastes Ptuj 2022 in the beautiful surroundings of Ptuj Castle!"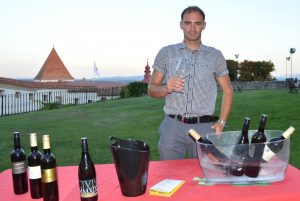 _____________________
Spend a day surrounded by one of the most beautiful castles in Slovenia.
Spend it at the Promenade of Flavours in Slovenia's oldest city.
The Ptuj Promenade of Tastes is held for the third time at Ptuj Castle, from where you can enjoy magnificent views of the vineyards of the Halos, the Slovenian Highlands and the Ljutomer-Ormož Highlands.
What does the Ptuj 2022 Promenade of Flavours have to offer?
- fine cuisine, married to the fine wines of Ptuj's vineyards.
- a musical surprise.
What does the €18 ticket include?
- tasting over sixty top wines,
- a tasting glass with the Salon Sauvignon logo,
- padlock.
Find out more about the Promenade of Flavours in the FB event
 https://www.facebook.com/events/2053397331536448/?ref=newsfeed
where you can also book tickets at a pre-sale price of EUR 16.
If you like the event, like it, share it and invite your friends, acquaintances, relatives, business partners.
Let's have a great time at Ptuj Castle this Saturday in September!
We'll be hanging out at Ptuj Castle in all weathers.
The event is organised under the auspices of the Salon Sauvignon festival.
Partners: wine producers, gastronomic houses, the Ptuj - Ormož Regional Museum, the Ptuj Tourism Institute, the Spodnje Podravje Rural Youth Association, the Ptuj Agricultural and Forestry Institute.