WINE GLAVAČ AT THE CELJE TASTE PROMENADE 2022 // // 03 SEPTEMBER 2022 // 14:00 - 20:00 // OLD TOWN CENTRE OF CELJE
"Our vineyards are located on the outskirts of Celje, on the hills where the Counts of Celje already produced their wine.
In 1993, we planted our first vines in a perfect southern location, where the sun's rays caress the vines from morning to evening.
The combination of clay-lamporous soils and a Pannonian continental climate allows us to produce full-bodied, extract-rich wines with a pleasant fruity bouquet. From cutting to harvest, we strive for perfection, and throughout the year we refine our wines in the cellar to the highest quality.
The winery is located in the village of Prožinska, seven kilometres from Celje. The best way to tell our story is by tasting our wines. We start with sparkling wines, continue with fresh wines and finish with a mature range. And our vineyard makes the experience complete.
You are cordially invited to the Promenade of Flavours in Celje so that we can share part of our story with you!"
Find out more about us on:
https://www.facebook.com/VinaGlavac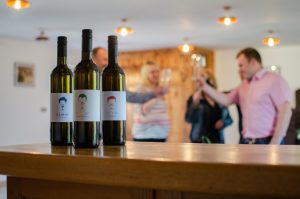 _____________________
You are cordially invited to one of the most picturesque city centres in Slovenia on Saturday 10 September - the Celje 2022 Promenade of Tastes, at a time when the vineyards surrounding the city smell sweetly of the sweetness of ripe grapes.
This Saturday, we will explore the Princely City with a wine tasting glass in hand from 2 pm until sunset at 8 pm.
What does the Celje 2022 Promenade of Flavours have to offer?
- top wines from the vineyards surrounding Celje, from Styria and Slovenia.
- fine cuisine from Celje's gastronomic houses.
- socialising and exploring the picturesque town centre with a glass of wine in hand.
- a musical surprise.
What is included in the €18 ticket?
- tasting over sixty top wines,
- a tasting glass with the Salon Sauvignon logo,
- padlock.
Find out more about the Promenade of Flavours in the FB event
Celje 2022 Promenade of Flavours ,
where you can also book tickets at a pre-sale price of EUR 16.
If you like the event, like it, share it and invite your friends, acquaintances, relatives, business partners.
Let's hope there will be lots of us in the Prince's City this Saturday!
In case of rain, the event will be postponed to 24 September 2022 from 14:00 - 20:00.
Organised by Itadakimasu Institute.
Co-organised by the Celeia Celje Institute.
Partners: winemakers, gastronomes, Vin.Ce Association, Wine & Art project.
The event is organised under the auspices of the Salon Sauvignon festival.
Find out more about Celje, the city of counts, on:
https://www.facebook.com/gocelje/
https://www.facebook.com/knezjemestocelje/