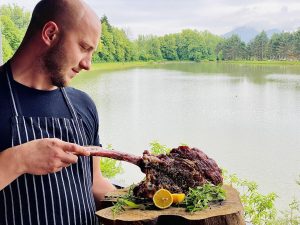 10 SEPTEMBER 2022 // 14:00 - 20:00 // OLD TOWN //
"First it was 'RAJNGLA', then we breathed some freshness into it and today we call it 'NEW RAJNGLA'.
The story of the Nova Rajngla restaurant is linked to the traditions of the Savinja Valley and the pond by which it is situated. The surroundings offer plenty of opportunities to recharge our batteries.
Rajngla has been around for a long time. But the new part of it dares with a new approach. Traditional is becoming modern - the sky is our limit.
At Nova Rajngla, we combine the local and the natural. The blue of the lake, natural colours, a modern approach, local ingredients."
Jan RESNIK, chef
"Our love of cuisine unites us, creativity on the plate describes us.
With respect for the efforts of each of our fishermen and local producers, I want to combine the modern and the familiar through my creations. Through different flavours, textures and colours, I want to show you that a dish is not just a meal, but also something magical.
Come to the Celje Promenade of Flavours and taste the magic! We look forward to meeting you!"
Find out more about the Nova rajngla restaurant here:
https://www.facebook.com/novarajngla/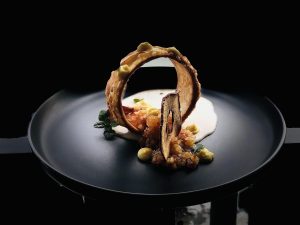 ____________________
You are cordially invited to one of the most picturesque city centres in Slovenia on Saturday 10 September - the Celje 2022 Promenade of Tastes, at a time when the vineyards surrounding the city smell sweetly of the sweetness of ripe grapes.
This Saturday, we will explore the Princely City with a wine tasting glass in hand from 2 pm until sunset at 8 pm.
What does the Celje 2022 Promenade of Flavours have to offer?
- top wines from the vineyards surrounding Celje, from Styria and Slovenia.
- fine cuisine from Celje's gastronomic houses.
- socialising and exploring the picturesque town centre with a glass of wine in hand.
- a musical surprise.
What is included in the €18 ticket?
- tasting over sixty top wines,
- a tasting glass with the Salon Sauvignon logo,
- padlock.
Find out more about the Promenade of Flavours in the FB event:
https://www.facebook.com/events/1107809909785375/?ref=newsfeed,
where you can also book tickets at a pre-sale price of EUR 16.
If you like the event, like it, share it and invite your friends, acquaintances, relatives, business partners.
May there be many of us in the Prince's City this Saturday!
In case of rain, the event will be postponed to 24 September 2022 from 14:00 - 20:00.
Organised by Itadakimasu Institute.
Co-organised by the Celeia Celje Institute.
Partners: winemakers, gastronomes, Vin.Ce Association, Wine & Art project.
The event is organised under the auspices of the Salon Sauvignon festival.
Find out more about Celje, the city of counts, on:
https://www.visitcelje.eu/sl/
https://www.facebook.com/gocelje/
https://www.facebook.com/knezjemestocelje/